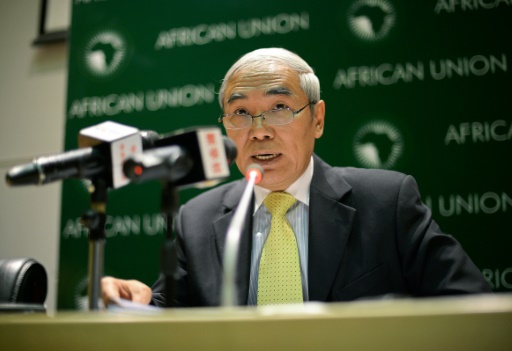 Last updated: 29 March, 2016
China appoints its first special envoy to Syria
China said Tuesday it has appointed a special envoy to Syria, as part of efforts to increase its diplomatic footprint in the Middle East.
China depends on the volatile region for oil supplies but has long taken a back seat in its disputes, only recently beginning to expand its role. One analyst said the appointment was a calculated move.
In recent months Beijing has hosted high-level delegations from both the Syrian government and the opposition.
It consistently says the crisis needs a "political solution" but has four times vetoed UN Security Council measures aimed at addressing the conflict — the latest seeking the investigation of war crimes in the country.
Xie Xiaoyan, who has been China's ambassador to Iran, Ethiopia and the African Union, will be the new special envoy to Syria, foreign ministry spokesman Hong Lei told a regular briefing.
The appointment would help facilitate peace talks and "contribute Chinese wisdom and solutions" towards attempts to resolve the crisis, he said, reiterating that a political solution was the "only way out".
China has picked what it sees as the right time to create the position, said Jean-Pierre Cabestan of Hong Kong Baptist University.
Negotiations in Geneva on the conflict "may start getting serious and that will be a good occasion for China to get more actively into the game and seen as contributing to a negotiated decision," he said.
Early on in the Syrian turmoil China's proposals were "rather unrealistic" and had little effect, he said, but Beijing probably now saw an opportunity for itself.
China "can try to surf on a new minimal understanding between Russia and the US to be part of the picture and the final solution, if such a solution takes shape," Cabestan explained.
As Beijing's global heft and reach expands it has sought a more prominent world role, but its increasing involvement — and the growing number of Chinese businessmen and personnel working overseas — can also bring challenges.
In November the Islamic State jihadist group — which holds swathes of Syrian territory — said it killed a Chinese hostage and published graphic pictures of his body.
It was unclear when, where, or how Fan Jinghui was killed, but Beijing's foreign ministry confirmed his "inhuman" death and vowed to bring the killers to justice.