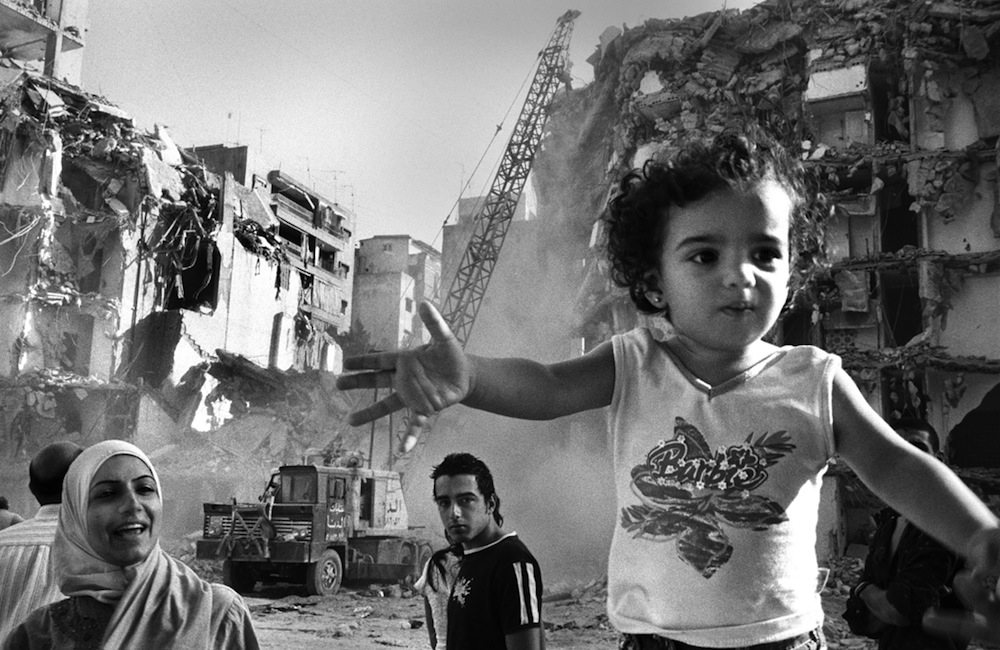 Last updated: 26 April, 2016
Photographs that capture ordinary life in the wake of conflict
Your Middle East had the opportunity to chat with Rania Matar about the need to – in the words of Pulitzer Prize-winning journalist Anthony Shadid – recognize 'the ordinary lives in times that are cursed by being anything but ordinary.'
Rania Matar is a photographer born in Lebanon and currently based in Boston. Her focus is on the Middle East, on women and children especially, and trough her work (e.g. 'Invisible Children' and 'Ordinary Lives') she has looked at how we view refugees and understand post-conflict reality. She purposely focuses her attention on people who have retained their humanity and their dignity despite what they have been through. She says that she 'avoided the obvious images of grief and calamity, preferring to set my focus on the indomitable ability of the human spirit to continue with the minutiae of life, from the joyful to the mundane, even amid the most difficult of circumstances'.
YME: In your work 'Invisible Children' you try to problematize the fact that the group identity of Syrian refugees is something that defines them more than their individual humanity. What do you think is the most dangerous aspect of this anonymity?
When you hear about millions of Syrian refugees, the sheer number is so large that it becomes abstract, something beyond what your mind can even comprehend. This is very dangerous because it is easier to dehumanize people when you cannot put a face on them. Somehow the individual identity of these people is lost, and so it becomes easier to forget people, reduce them to a number on a spreadsheet instead of an important individual human being. I think it is important to gives these people a voice and a face in order for them to regain their humanity and to put it on a scale that we can handle.
When I was in Beirut and talked to these kids, it really hit me to the core. The realization that they could have been my own children. One kid that I was talking to was the same age as my son and looked like my son. It was very moving for me to realize that. I think the fact that I live between two countries makes me an insider and an outsider at the same time. So when I go there I can view things with the fresh eyes of an outsider, but I understand the people and relate to them personally as I am also an insider. I think people in Lebanon are now used to seeing these kids in the streets that they somehow stop paying attention to them and there is something deeply and humanly sad about that. In all fairness Lebanon has its own issues and the Syrian problem has become larger than Lebanon.
In what way do you believe the camera to be a powerful tool to restore people's humanity?
When I photograph people I try to make the photo subject to pose as naturally as possible in front of the camera. Through the camera I can give that person importance and an individuality and an identity that can be communicated all over the world. In 'Invisible Children' I often found the kids in front of a wall with graffiti or billboards. That was for me an important part of the story. All these walls have a rich history and keep evolving over time when people are adding new layers on it, layers of paint, graffiti, stickers and billboards. So for me these kids became the newest layer of history on the wall, they had become part of the story of the wall in some way. This is why I call them invisible children, because they almost become invisible in the eye of the public. In my other work, I photographed girls and women in their personal environment. The walls have become the environment of those children. It is this static depiction that the camera can overcome by giving these kids a face and an identity that goes beyond that specific context.
Honesty is a strong theme in the stories you tell. But how strong is the connection between honesty and a photograph according to you?
Of course honesty is very important. But it is my honesty in a way. At the same time as I am being very honest in my photography, there is always a part of photography that is more subjective than objective due to how we individually interpret situations differently. Somehow every photographer is telling a story that is coming from his/her own subjective view of things. I am not doing pure documentary photography in that sense. I look at photography as projecting my own art into it, or my own visual vocabulary in order to tell the story. It is honesty as how I perceive it. I am telling the story of my choosing and my point of view through my work, and in that sense I am being honest in trying to depict the people I photograph in the most honest way that I can. But it is unavoidable that in the end photographs are seen independently from the photographer, from the place and time. I hope that people's reaction to the human and universal message that I am trying to convey shows that somewhere along the way I have been honest.
Another important question to consider in terms of honesty is the ethics of detachment. For example, I am photographing these kids but then what? How do I deal with the fact that afterwards I will be sitting in an office in Boston looking at the pictures on my computer deciding which one is the better image? It is therefore important to remember why you do this kind of work and think about how you can help in a tangible way. I am not paid by a magazine to do my work, it is all personal for me. I have to exhibit and sell my work, and continue to do what I do, but I think that this insight helps me to stay honest in some way: I try to help by bringing awareness as I navigate my two worlds, yes. But I also try to contribute in more tangible ways. One of my galleries and I are now selling the whole edition of a photograph and all the proceeds are donated to raise money for the refugees in Lebanon. In the past I have also taught photography workshops to Palestinian refugee girls in the refugee camps. It is important to give back when one can. It keeps you honest.
How important is the concept of identity in your work?
Identity defines all my work, as a woman, as a mother and as the product of two cultures. I am Lebanese, I am part Palestinian, and I am American. I think that this combination has inspired me to become a photographer. But it was actually after 9/11 that I came to terms with the whole sense of identity in a very profound way. Before that I was working as an architect, but all of a sudden the news was about 'them' and 'us', creating discursive divisions between people which I found very unsettling and disturbing. I was both "them" and "us".
In 2002 I went to visit a Palestinian refugee camp in Beirut and realized that it was only a five-minute walk from the house that I grew up in but with completely different living conditions. At the beginning I was intimidated by this fact and couldn't overcome how bad I felt for the refugees living in that particular situation. In order to overcome this initial feeling I had to go through an internal exercise with my own self and focus on our common humanity in order to look at them as the beautiful people they are and not just feel sorry for them. Because this is their lives, and maybe my life is different but we can all relate to each other as human beings at the core, as women and as mothers. Identity is imperative to define the underlying equality shared by all humans. Therefore it became important for me to focus on the essence of what makes us all human and on the universality of our humanness. Life is not fair, but if we treat people with respect and look at them for what they are we become one of them in a sense.

The Polish journalist and writer Ryszard Kapuściński once wrote that 'situations of crisis appear more dire and dangerous from a distance than they do up close. That our imaginations hungrily and greedily absorb every tiny bit of sensational news…, and instantly inflate these signs to monstrous, paralyzing proportions'. How do you conceptualize an outsider's detachment from the ordinary lives and everyday reality of people living in conflict prone areas such as Lebanon during and after civil war?
I got stuck in the war of 2006 between Israel and Hezbollah with my kids. I am not a photojournalist or a war photographer so I needed to leave the country in order to get my kids to safety. Eventually we escaped through Syria and got out. As soon as I got back to the U.S. and put my kids back in school it dawned on me that when conflicts flare up, like this one in Lebanon, the media covers the story intensely due to its sensationalism, but then what? I felt compelled to go back to Lebanon and photograph reality after the war when the media has forgotten all about Lebanon. Because this is the new reality, people putting their lives back together. This is when one sees the reality of how people really got affected by the war, mourning their dead, rebuilding their homes and dealing with all the destruction. The aftermath does not make it to the news coverage. People want the sensationalist aspects of the news, but when the war is over people tend to forget about the people who had suffered and are now rebuilding their lives. Therefore many of the photographs from ordinary lives were from after the war.
I think that a lot of people depict the Middle East in an orientalist and sensationalist manner. In a way the West almost expects to see war and oppression. In my work, I choose to focus on the beauty, the resilience and the dignity of people, on our universality and our sameness, and I mainly do this through the lives of girls and women.
All photos copyrighted by Rania Matar/INSTITUTE. See more of Rania's work at www.raniamatar.com