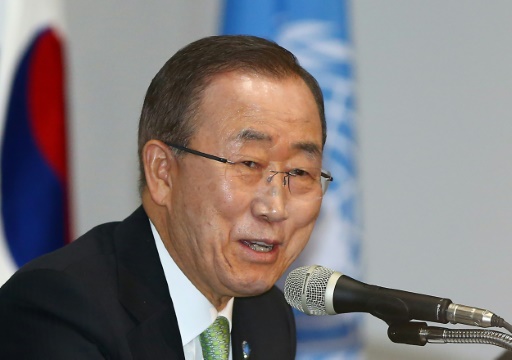 Last updated: 8 June, 2016
Rights groups tell UN chief to put Saudi-led coalition back on blacklist
Twenty leading human rights groups on Wednesday urged UN Secretary-General Ban Ki-moon to reverse his decision and put the Saudi-led coalition fighting in Yemen back on a list of shame for the deaths of children in Yemen.
Ban decided to remove the coalition from the annual list of child rights violators under pressure from Saudi Arabia, which reacted furiously to the decision and threatened to cut off funding to UN agencies.
Diplomats and UN officials said Saudi Arabia had also enlisted allies from the Organisation for Islamic Cooperation and the Arab League to lobby Ban to make the changes.
"The secretary-general's decision flies in the face of overwhelming evidence that violations by the Saudi-led coalition have killed and maimed hundreds of children in Yemen," said Jo Becker, a director at Human Rights Watch.
"Allowing governments that commit abuses against children to bully their way off the list makes a mockery of the UN's children protection efforts," she said.
Amnesty International, the Child Rights International Network, Oxfam and Physicians for Human Rights were among the 20 groups that made the appeal in a letter sent to Ban.
The United Nations blacklisted the coalition after concluding in a report released Thursday that it was responsible for 60 percent of the 785 children killed in Yemen last year.
Three days later, UN spokesman Stephane Dujarric announced that the coalition would be scratched from the list pending a joint review with the Saudi-led alliance.
Saudi Ambassador Abdullah al-Mouallimi said the number of child deaths blamed on the coalition was "wildly exaggerated," and later proclaimed that the decision to be taken off the list was "irreversible."
Saudis 'whip up' allies
A Security Council diplomat said the Saudis had "whipped up a lot of supporters and some of those supporters added to the pressure to the secretary-general and the UN to make the changes."
Saudi Arabia threatened to pull tens of millions of dollars in funding to the UN Palestinian relief agency UNRWA and warned that UN-brokered peace talks on Yemen could be affected, diplomats said.
"Saudi Arabia and others make their viewpoint very clear, in various conversations," UN spokesman Stephane Dujarric said.
But he insisted that a final decision had yet to be made on the list.
"We are not walking back from the content of the report," said the spokesman.
Ban is expected to address the uproar over his decision to de-list the coalition during a press conference on Thursday.
The coalition launched an air campaign in support of Yemen's President Abedrabbo Mansour Hadi in March 2015 to push back Huthi rebels after they seized the capital Sanaa and many parts of the country.
The war has left some 6,400 people dead, with more than 80 percent of the population in desperate need of humanitarian aid, according to the UN.