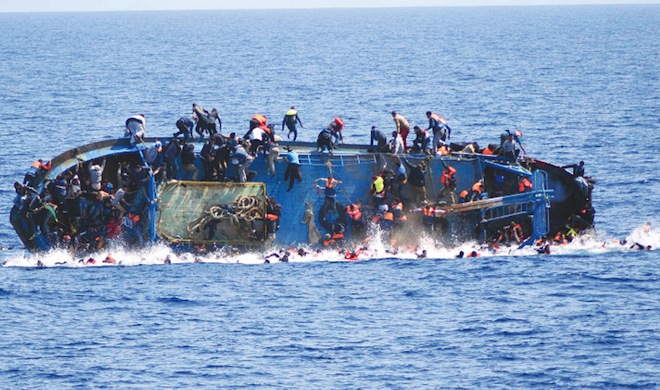 Last updated: 13 June, 2016
Who are all the drowned refugees?
A dedicated team in Greece has set up a DNA bank so relatives can find missing loved ones.
I've just hung up the phone. After several months of nagging, I finally got to talk to the heads of a police department in Greece. They are the ones who are in charge of the DNA-register for immigrants and refugees that drowned in the smuggler boats on their way to Europe.
For years I've been in contact with refugees who either suspect that their relatives have drowned or are certain about it. Last fall, after the photos of the Syrian-Kurdish boy Alan were spread around the world, the phone calls became more frequent. Being one of leaders of the advocacy group A Demand For Action (ADFA) also lead more and more people to contact me.
In the beginning of November, Zakay Challma, a Syriac Orthodox monk, called me in panic from Greece. He asked me to broadcast through the media that the waves are too high and urged me to say that it was winter and that refugees and immigrants must stop taking the boats over from Turkey. In the same call, he told me that he was in Rhodes to arrange the funeral of a couple of drowned Assyrians/Syriacs. He then asked me to call a man named Ayman whose wife and two daughters had recently drowned. Ayman is currently a refugee hiding in Sweden. I assumed that the monk had already spoken to Ayman himself. Therefore I started our conversation by offering my condolences. He was quiet for a while and then started to ask who passed away.
Six months later, on May 25, I finally had a thorough conversation with Penelope Miniati, the police chief in charge of the DNA-registers in Athens, Greece. Prior to the interview with Miniati I was in Rhodes; Ayman's brother Joseph and I were trying to locate the corpses of Ayman's wife Nawal and their two daughters Jocelyn and Jacqueline, ages 8 and 10. Before departing Sweden, we at ADFA helped Ayman take a DNA-test. We were told that the police in Rhodes needed the test. Ayman himself couldn't join us to Rhodes. He was what they call a "Dublin case".
In September 2014, just after the Nineveh Plain in Iraq was emptied of its Assyrian/Chaldean/Syriac people, Ayman left Hassake in northeastern Syria after a Christian chauffeur was stopped and was told to remove his cross from his rearview mirror. When he refused to do so, he was ambushed. Many others were also killed for their beliefs. The extinction of Christians, Yezidis, other non-Muslims, and moderate Muslims has spread in Syria.
Ayman contacted a smuggler and paid him 15,000 euro to take him to Sweden. His wife and two daughters stayed with his siblings. It took him five months to reach Sweden. He traveled first on foot to Turkey and then to Greece on a small boat. From there he made his way to Italy on a big ferry, hidden in the lower decks. In Italy the police arrested him and forced him to give them his fingerprints. Unbeknownst to him, he had become a "Dublin case", and Italy, the first country that he entered in the EU, was now responsible for his asylum.
After another traumatic trip he arrived to Sweden, only to be rejected and forced to go back to Italy, a country he has no relation to at all as his in-laws all live in Sweden.

***
Meanwhile in Hassake, Christians were threatened to near extinction, as predicted. His wife Nawal was also told the only way to get the family to stay in Sweden was for her to come with the children, and do everything she could to avoid being stopped in any other European country so that she would not become a Dublin case. Her brother-in-law, Joseph, who lives in Belgium, told her that a couple of his friends, Danny and Ninib, were leaving Hassake with smugglers who had a good reputation. But she had two small girls. How could she take them with her? It turned out that Ninib was taking his daughter with him as well. That, and the fact that the terrorists were advancing closer by the day, convinced her to make the trip.
Four days later, on October 30, 2015, she and her daughters Jocelyn and Jacqueline were eating kebab in Didim, Turkey. On this day, they sent the last known photos of themselves to their family members. At 2.30am, in the dark, they took the boat, seventeen people in all. Joseph was in touch with both Nawal and Danny up until this point. Of course, he could not sleep that night. At 3.30am, Danny's Viber status indicated that he was no longer online.
By five o'clock that evening, Joseph started to panic. He called the monk, Zakay Challma, who resides in Athens. Through various news channels, Zakay learned that several boats had capsized. Based on the information Danny had given Joseph it sounded as though the group had boarded one of those fateful vessels.
Zakay flew to Rhodes and went to the hospital where the bodies were being kept. There were pictures of all the dead. He recognized Danny from a picture on the Internet. He showed pictures of the others to the people at the hospital but they could not find them. A Syrian woman who had been on the same boat told him what had happened. The trip was supposed to take 45 minutes but after 30 minutes something made the captain jump over board. She did the same and the boat sank. Nawal and her daughters were in the cabin of the boat and were unable to get out.
The day after, on November 1, 2015, while at an ADFA meeting in Södertälje, a city south of Sweden's capital Stockholm, Zakay, the monk, called me and told me to speak to Ayman.
In April we flew down to Rhodes. Monika Galouzi, previously involved in local politics on the island, helped us on site. She knew some of the hospital administrators that took us to the morgue. Two women that work there opened a huge book registry of people who had drowned in 2015. The information was all written by hand. We provided them with copies of Ayman's family members' passports. First they told us they can't find them. The database itself is in Athens. One of the women looked at the copy of the passports a second time and said that she remembers the girls. We stood up in anticipation but our hopes were dashed when she realized the girls look familiar because Zakay, the Monk, had already been to this morgue and circulated the pictures of Ayman's family.
After another hour of investigation of the handwritten registers, we were about to give up. The head of the morgue advised us to go to the police and file a report of missing persons. Monika drove us to the port police. We filed a report based on the family photo, as well as Ayman's DNA, new information about the boat, and the names of those who we found in the morgue register that had been on the same boat – this along with Joseph's passport. Joseph was the closest relative and could file a report with Monika as his contact person. A couple of days later we got word that Ayman's DNA didn't match with the one on file in Athens.
Joseph flew back to Sweden with me and helped me locate Hagob, a 19-year-old from Hassake and survivor from the boat. He now lives in a Swedish city and is waiting for his asylum request to be processed. The Migration Board explained that the process would take a while due to the large number of asylum seekers in Sweden. "I traveled with my uncle Ninib and his daughter Meryem. We tried getting on many other boats, but they were too small. When we saw the little motorboat we felt that it was much safer than the other and that we should try it. At 4 o'clock in the morning, we were told to board."
According to Hagob, he was told the trip wouldn't take more than 20 minutes. There were 17 refugees onboard, plus the captain, so 18 in total. Hagob, Ninib, Meryem, Nawal and her two daughters along with three other people from Hassake were the first to board. They took shelter under the deck. "Since we were the first to board, it was natural for us to go down, nobody told us to, not that I recall."
The captain told them to turn off their phones so that they wouldn't be detected by the coast guard and be forced back to Turkey. After just a couple of minutes, the boat started having trouble. They became nervous and turned their phones back on to contact their relatives. Ninib called a friend in Germany. A moment later the boat went under.
One of the Kurds who was under deck managed to crush a valve helping four people escape. Hagob saw how the water rose up to the height of the deck. He thrust his uncle so that he would wake up, but got no reaction. Hagob tried to find Meryem but did not succeed. He could not see Nawal and the girls either. The air was running out. The Kurd who crushed the valve managed to get him out but the others could not be saved. When he reached the surface, he saw the "cruiser" slowly sink and become swallowed by the ocean. He screamed, but it was all he could do. He swam for five hours before the coast guard picked him up.
Hagob later found out that seven people had drowned. One of them was a disabled man in a wheelchair, and another was Danny, a man whose name we found in the morgue in Rhodes. The total number of deaths on board were 12, and 6 had survived. Relatives of the deceased came from all over the U.S. and Germany but couldn't do anything. If their relatives did not float up to the surface, they would not be found. Relatives were told that they might surface later. After speaking with some of them myself, I realized that they were not aware of the DNA register.


***
On May 25, Penelope Miniati and the others at the department working with the DNA-register finally got authorization from their bosses to talk to me.
Since January 2015, 4.400 immigrants and refugees have drowned in the Mediterranean Sea. A tenth of them have drowned outside Greece. How many have been found or identified? Then DNA-register in Athens is located in the same department as the section for domestically missing persons, 55 persons are working there. 8 of them are working with immigrants and refugees.
"Most of them are found shortly after they drown and are easier to identify. If they have relatives who have the opportunity to search for them in the morgues, it often solves the issue faster. But if they can't be identified because they've been in the water for too long, the morgue has to take a DNA-test and send it to us for analysis and registration," says Penelope Miniati on the phone from Athens. "In some cases they can be identified when they've been found, but if nobody searches for them, the morgue must send the DNA-test to Athens, so that they're registered and can be identified in the future, once somebody starts looking for them.
"If one is looking for a family member, one has to make a formal report about the missing person at the police department here in Greece or at one of our missions abroad, along with a DNA-test," Miniati continues and points out that it's important that the world knows about the database so that as many as possible can be identified.
She believes we did the right thing flying down and looking for Ayman's family. Even if they're not in the database now, they could be floating up on an island somewhere and will be found, and the police will contact Monika. Ayman's DNA is now in the database. When people are found, they're being withdrawn from the database. Right now there are 442 DNAs on people who have not been identified yet. There is also DNA on 104 people that are looking for their relatives (Ayman is one of them). The database is for Greeks as well, but since the identification process of the Greeks is a lot faster, they estimate that 80% of the unidentified people are immigrants and refugees. In the last two years, over 100 immigrants have been identified and given to their families – 47 of them in the first three months of 2016 alone.
Dr. Mazitsos takes the phone for a while. He also works at the department that manages the DNA-register and has specifics about this particular case. I asked him to tell us more about the previous times people actually managed to find their relatives thanks to the DNA-register in Athens. "We don't see this as a regular job, for us it's more about humanity. We take our jobs seriously and treat every case with great humility. The feeling of being able to help someone find their missing relatives is indescribable."
***
On October 29, 2015, the day before Nawal and her daughters took the boat, another boat sank outside the island of Kalymnos. It had 160 people onboard. The coast guard rescued 139, but 19 drowned and were later found, while two were still missing. The authorities took DNA tests on all those who reported to have relatives either missing or drowned. Thanks to the work done by the authorities, 19 people were identified and returned to their families for burial.
On December 7, a body was found outside the island of Kos and was taken to the morgue in Rhodes. A DNA test was sent to the registry in Athens. Mazitsos says, "A woman sent her DNA to us through the police in July 2015. After the boat trip, she couldn't find her baby who was just a few months old. It was one of the two missing after a boat capsized with 160 people onboard outside Kalymnos. Now the mother can get some sort of peace in her grief."
"On January 16, a new DNA test came to Athens. This time we had a child found outside the island of Samos. The body was in bad shape. A man had left his DNA because his 8-year-old daughter was missing. The DNA from the body found outside the island matched against his. It was his daughter."
Penelope Miniati and Kostas Mazitsos are happy that someone finally is paying attention to their work with the database and are hoping that as many people as possible send in their DNA tests along with filing police reports. "Our hope is obviously that Ayman will find his wife and daughters in life, but unfortunately it seems more likely that they have been drowned. Now we have his DNA and if his daughters' bodies surface, he will be contacted," says Miniati before we hang up.
Linda Michael Courteris and Ninos Özmen Patto also contributed to this report. Names of all refugees in the story have been changed.