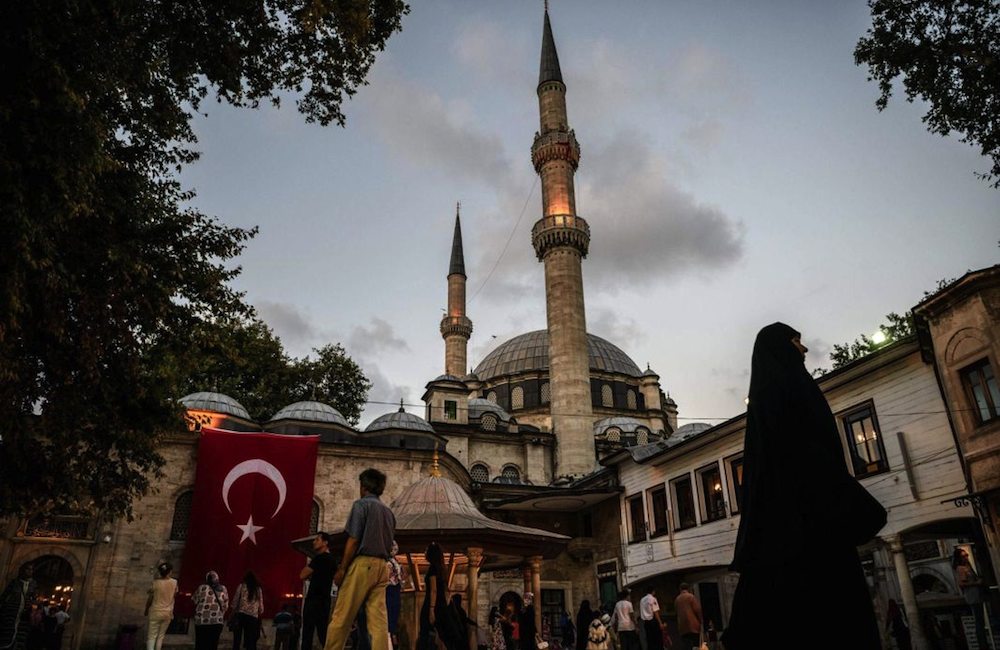 Last updated: 31 July, 2016
As failed coup sets Turkey on a new path, minorities fear for their future
"They are coming!" Sivan heard through the phone, as pro-government mobs marched into the predominantly Kurdish area of Küçükçekmece. It was the day after the aborted coup. Fearing an assault, the writer and poet kept a low profile and refrained from speaking Kurdish in public.
For the past two weeks, tireless crowds have occupied Taksim Square, cheering a resilient Erdoğan in the face of an attempt to oust him from power. A sense of triumph has taken hold of Istanbul's streets as thousands of people sing the president's campaign song, frantically waving star and crescent flags. But more is being celebrated than democracy and popular sovereignty. Turkey's failed coup has given way to an outpouring of chauvinism.
And while the chanting of Allahu Akbar and other religious slogans have unnerved secular Turks, the past weeks have also been frightening for Turkey's minorities. Amid ubiquitous Turkish flags, jubilant crowds could be seen flaunting the three-crescent banner, a symbol of ultra-nationalism.
The owner of a small café and Kurdish-language bookshop, Sivan says people did not dare to come by. For days, he did his best to soothe a handful of customers who came to escape, with art and literature. Those that did not raise the flag could be labelled Darbeciler, or coup-plotters. "But why would I raise the flag? This flag has hurt my father!" he says, referring to the Republic's troubled history with the Kurds.
Turkey has a long tradition of oppression against minorities. After the Republic was founded in 1923, Kemal Atatürk and his followers denied any identity that went against the ideal of 'Turkishness'. While Kurds underwent ruthless assimilatory policies, Greeks, Armenians and Jews suffered harsh treatment from the state, prompting many to flee.
Setting itself apart from the old secular elite, Erdoğan's AK Party has reached out to the country's ethnic minorities. Since its rise to power in 2002, the AKP has done more for minority rights than any other government in the past. An example of this was a historic move to allow a broader use of the Kurdish language in broadcasting and politics in 2013.
If such reforms had left many hopeful, the mood has changed. Increasingly, the AK Party has promoted a new form of nationalism, rooted in Sunni Muslim identity. In the wake of the coup, religious conservatives and nationalists have dominated the demonstrations. Under the banner of Recep Tayyip Erdoğan, the two movements have gathered together to form a grass-root alliance.
Having emerged stronger from these events, there is concern the president will pursue an Islamist-nationalist agenda more forcefully. At odds with such a platform, minorities fear for their future.
"We have suffered from a military state in the past. But Erdoğan is using the coup to build a police state," says Sivan. A more daunting prospect, as police states directly intervene in people's lives. "Before, the government engaged in urban warfare, now it will personally target people. It is more dangerous than anything we have ever experienced."
That evening, the president convened a meeting with opposition parties in parliament, excluding the pro-Kurdish People's Democratic Party (HDP). If Erdoğan proves conciliatory towards Kemalists, Sivan says the situation for Kurds is likely to worsen.
Kurds are not the only ones worried by what lies ahead. The rampant nationalism that ensued from the coup has struck a similar note for Turkey's Armenian community. Talar works for the Hrant Dink Foundation, named after the famous Armenian journalist who was killed by a nationalist teenager nine years ago in Istanbul. He says the same crowds that call themselves 'saviours of democracy' consider Armenians to be enemies of the Turkish nation. "Their so-called democracy excludes Armenians."
An age-old problem, Talar says he has recently experienced an upsurge in anti-Armenian resentment. He expects it to "double" in the aftermath of the coup. "Since Germany officially recognized the genocide, ultra-nationalist militants have threatened our community. They have held rallies in front of our churches and painted graffiti hailing the murder of Hrant Dink." Those were the Grey Wolves, a neo-fascist organization related to the Nationalist Movement Party (MHP) that has buoyantly taken part in the post-coup parades.
"Whenever there is a crisis, nationalists always hold us responsible for the country's problems. Here again, we serve as scapegoats. Last week, some news outlet claimed Gülen was of Armenian descent!"
Though he is more scared by the crowds than the state itself, Talar says a more assertive Erdoğan will not bode well for his community. "In a society where Islamism and nationalism are gaining ground, us non-Turkic Christians cannot live peacefully. Being Armenian in Turkey was always difficult, but the fallout from the coup was a blow to our courage." For the past few days, his family have urged him to stay at home and avoid the squares. He says this has never happened in the past.

Gay pride parade in Istanbul, 2012.
Despite not being an ethnic minority, the prevailing atmosphere has led to a similar fear in the country's LGBT community. Mesut, who spoke on condition of anonymity, is a professor at Boğaziçi University. As an academic, he is forbidden to leave the country for now. But once the travel ban is lifted, he plans to move to Canada with his boyfriend.
"Being gay in Turkey was never easy, but the situation has now become unbearable." Mesut used to live in the conservative area of Tophane, where people intimidated protesters who gathered for the Gay pride last month, despite an official ban. "When the Orlando shooting occurred, the pro-government newspaper Yeni Akit even praised the deaths of homosexuals. If this regime becomes stronger, the pressure on gay people will increase."
Mesut says the backlash of the coup has convinced many to leave. He claims it is now common for people to look to Spain, where residency permits are easier to obtain than in other European countries. "A lot of my Jewish friends are now making use of that special law," he says, referring to a measure adopted by the Spanish parliament in 2009, granting citizenship to Jews expelled in the 15th century.
If he had been thinking of leaving for a while, it is the past weeks' events that have persuaded him to do it. "I don't know what will happen to Turkey. But given the current climate, I cannot see myself staying here for much longer."

Killian Cogan is a student in Political Science, Philosophy and Economics at Trinity College Dublin, and is currently working for the Istanbul Policy Center.