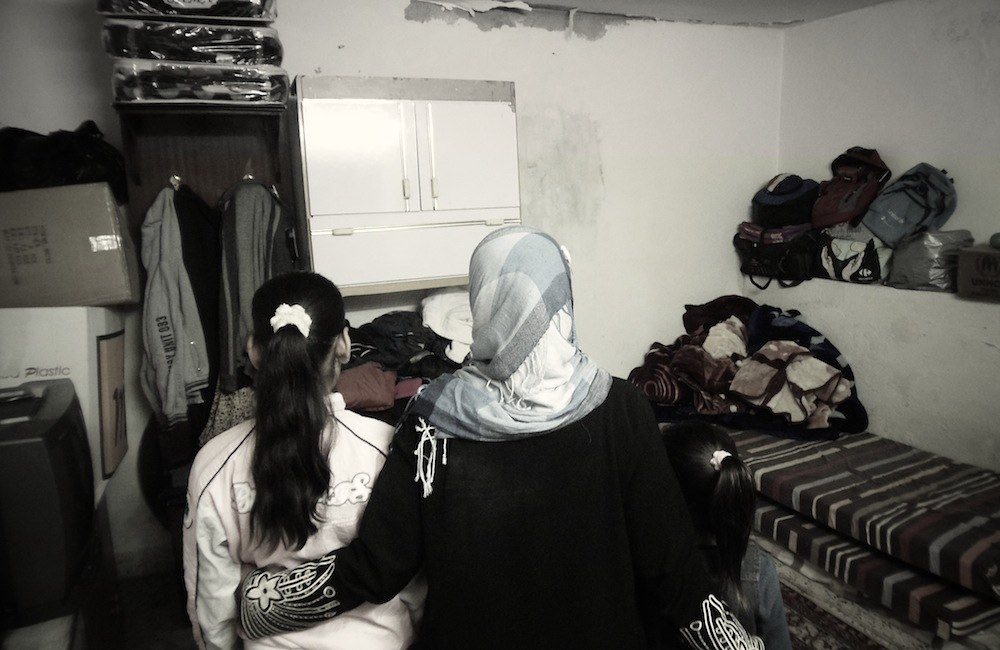 Last updated: 3 August, 2016
Uncovering the realities of refugeeness among Syrian women in Amman
The representation of refugees, in the Middle East and elsewhere, often depicts a spectacle of uprooted masses pouring into our societies or populating refugee camps on the edges of the world. It is assumed that they need to be empowered and protected from (their own) barbaric cultural practices, especially women. Yet, Syrian refugee women in Amman challenge this conception of refugeeness on an everyday basis.
Between a Skype call with her daughter in Syria, who expects her husband's liberation from the gaols of the regime, and a WhatsApp conversation with one of her sons settled in Saudi Arabia, Rakiah proudly tells me about her life back in Homs, Syria. She sits on the velvety couch her husband Omar found in the streets of Amman a few days ago and points to the frame, nailed on the wall she leans against. It is an ornamented golden metal sign representing Koranic verses she saved from a pile of garbage: "Haram! How can people leave such things on the streets?" Most of their furniture was either found or given by relatives and neighbours. But on the wobbly coffee table, amongst this precarious and temporary setting, are also brand new smartphones and an IPad. Rakiah, 60, and Omar, 65, manage them with a dexterity I did not expect from people of their age. Yet these screens are their windows to the world, the medium of their life in exile but also a testimony of their past life.
Rakiah takes time to show us pictures of her children, standing in front of a blossoming orange tree in their garden back in Homs, while we enjoy her delicious makdous. Omar tells us, unsurprisingly, that Rakiah was known to be a very good cook in their neighbourhood of Al Hamadiyah in downtown Homs. She used to prepare and sell food to neighbours on special occasions. She did that more as a hobby than a real paid activity. Indeed, the family had a good situation in Syria and has not been used to ask for help: "We used to send parcels to charities, and now we are the ones receiving it," Omar says with irony. Thus Rakiah refuses to 'beg' for money or food from relief agencies, although her husband is unable to work due to his health condition. Instead, she rather makes her own money. Thanks to the reputation she starts owning among her neighbours, spreading by word of (delighted) mouth, she has now about 4 to 10 requests a month. "That's like my pocket money," says Rakiah, filling our plates with more makdous, pomegranate molasses and other vegetable fritters, a satisfied smile on her face.
Renegotiating life between refugeeness, gender and the urban
The pictures of overcrowded camps, such as Zaatari in Northern Jordan, have marked our imagination of the ultimate refugee experience. However, only 18% of Jordan's Syrian refugees (the regime claims to welcome 1.4 million refugees, while the UNHCR has registered 657,000 as of July 2016) have found shelter in one of the three camps of the country. Indeed, refugees have mainly settled in the Northern cities of Azraq and Mafraq, as well as in Amman. There, forced migrants find more opportunities, help from transnational family networks and have better access to the (informal) labour market as well as to migratory networks, if they are planning to transit towards further destinations. Urban refugees thus demonstrate higher levels of autonomy and coping strategies than camp refugees. On the other hand, scattered in the city, and all over the country, they often lack visibility and are hard to reach for relief agencies.
In this context, women are considered to be particularly at risk, as they are the first victims of gender-based and domestic violence, which often increase with the sudden transformation of gender hierarchies ensuing from forced migration. Moreover single women and female-headed households face greater difficulties to support themselves and their family. Although humanitarian discourses exacerbate women's need for empowerment and protection, Syrian refugee women in Amman show great resilience. They find their way through the hostile and anonymous metropolis and renegotiate their existence between refugeeness and gendered identities.
They firstly rely on pre-existent transnational kin networks which often provide them with information and financial or material help, easing their arrival to Jordan. Through social networks, such as Facebook, WhatsApp, Viber and Skype, they gather and exchange resources with Syrians in the Middle East, Europe, and beyond. The city and the specific spaces of refugeeness become also resources in themselves. As main caregivers, women are generally in charge of housework, which operates both inside and outside the household for refugee women.
Queuing at the UNCHR headquarters in Amman, shopping with food vouchers in specific malls, meeting in local community centres, they connect with other Syrian refugees but also with Jordanians. Besides exploring the urban in new ways, they collect used elements to (re)create interior spaces which often echo traditional forms of habitat in Syria. Making home in Amman, and making sense of their situation of forced exile, Syrian refugee women insert themselves in multiple networks and bring in their own connections, extending a web stretching from their lives back in Syria, and drawing their migratory routes across borders to Jordan and beyond.
The experience of Syrian refugee women in Amman, such as Rakiah, demonstrate forced migrants' agentic and resilient capacities. Rather than standing on the edges of the world, they craft their lives at the intersections of different societies and temporalities.