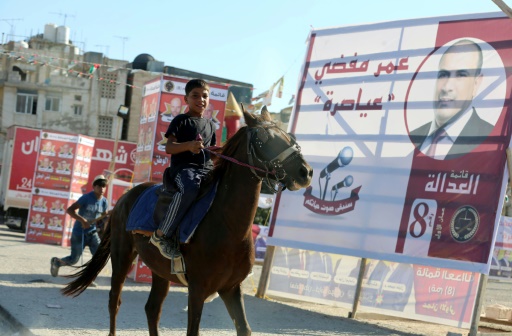 Last updated: 15 September, 2016
Jordan's Muslim Brotherhood eyeing greater role in upcoming election
After years of self-imposed political exile, Jordan's influential Muslim Brotherhood is gearing up to compete in next week's general election aiming to reestablish its role as a major parliamentary force.
The vote comes as Jordan — a key Western ally long lauded for its relative stability — finds itself under pressure from neighbouring conflicts and ruffled by domestic issues, including stubborn unemployment and growing radicalisation.
Brotherhood officials and analysts say the September 20 vote will pose a key test of the ability of the state to hold a fair election and of its willingness to accept a result that may boost the Islamists.
"All we want are credible elections that truly represent the will of the people, irrespective of how we will be represented in parliament," the Brotherhood's second-in-command Zaki Bani Rsheid told AFP.
"Jordan must make the most of this occasion… to rebuild citizen confidence in the electoral process and state institutions."
The Islamic Action Front, the political wing of the Brotherhood, was once the largest party in parliament, winning 22 out of 80 seats in 1989.
But the Brotherhood itself has been weakened in the wake of the Arab Spring uprisings.
Authorities consider it an illegal organisation because its licence was not renewed in line with a law on political parties adopted in 2014.
Dozens of Brotherhood offices have been shut this year.
The IAF boycotted elections in 2010 and 2013 in protest at the electoral system, which it said weakened parties in favour of tribal and other pro-government candidates.
Its decision to take part in next week's election after Jordan amended the electoral law in March is seen by analysts as a test and a way of regaining influence after years of ostracism and infighting.
"The Brotherhood wants… to secure seats in parliament in order to rebuild its legitimacy and renew contacts with the government," said Oreib Rentawi, head of Al-Quds Centre for Political Studies.
Mounting crises
Although it has avoided the violent upheaval of some Arab states since 2011's wave of popular uprisings, Jordan has a growing list of issues that could spark insecurity.
A key member of a US-led coalition battling jihadists in Syria and Iraq, Jordan is, according to the UN, home to more than 600,000 Syrian refugees. Amman puts the number at 1.4 million.
Unemployment is running at 14 percent and last month the International Monetary Fund approved a $723 million three-year line of credit to Jordan to support economic and financial reforms.
Amman instituted some reforms following Brotherhood-led protests, including amending its electoral law to allow political parties to submit lists and reserving 15 seats for women.
But the IAF wants further change, including a constitutional amendment to allow parliament to choose a government, rather than having the king name a prime minister, as is currently the case.
Rentawi said he expected the Islamists to win 20 out of the 130 seats in next week's election.
Mohamed Abu Romman, a researcher at the University of Jordan's Centre for Strategic Studies, agreed and said the vote could be a "dangerous test" for King Abdullah, who may find his parliament bolstered by Brotherhood allies keen on more reform.
A good showing for the Brotherhood's political wing would leave authorities facing a choice between unpalatable reform or a "confrontation" with the Islamists, Abu Romman said.
At the same time, the government needed to restore some public trust after several votes dogged by allegations of impropriety.
"The public is sceptical due to recent experiences and the acknowledgement by authorities themselves that there has been large-scale (electoral) fraud" in the past, Rentawi said.
'Popularity test'
The Brotherhood's grassroots popularity has not always translated to influence in a parliament that possesses only limited legislative clout, and for which the majority of candidates are likely to be loyal to the royal court.
It faces a potential rival from within in the form of the breakaway Muslim Brotherhood Association, which the government authorised last year to compete in elections.
And there is also the group's ambiguous association with other country branches, including Egypt's Muslim Brotherhood, which has been outlawed as an extremist group in many Arab states.
Rentawi believes next week's vote is a "test for the Brotherhood's popularity".
For analyst Labib Qamhawi, however, allowing the IAF to gain more seats could further destabilise the kingdom — something the royal court may not countenance.
"The state won't allow free elections like in 1989," Qamhawi said. "It cannot take the risk since it's going through a delicate period. A strong parliament disrupts power."