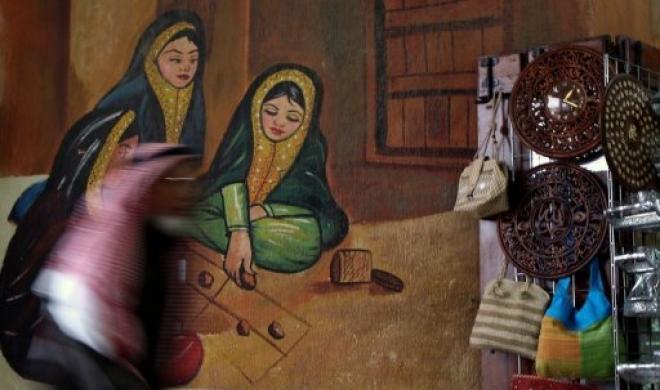 Last updated: 11 April, 2017
A long and winding road: Fighting gender-based violence in Kuwait
Different groups and organizations in Kuwait are lobbying to get laws sanctioning violence abolished and to make more resources available for victims of abuse. It is not a path of roses but they are slowly getting there. One of the most famous is the Abolish 153 movement.
How can it be possible to raise girls in Kuwait where there are no laws prohibiting marital rape, sexual harassment or domestic violence? This was the main concern that pushed five women activists to create in 2014 the Abolish 153 campaign in order to increase awareness against laws that encourage gender-based violence in Kuwait. A recipient of the 2016 Chaillot Prize for the Promotion of Human Rights in the GCC, the movement lobbies to abolish article 153 from the Kuwaiti Penal code. Article 153 deals with so-called honor killings stipulating that "any man who surprises his mother, sister, daughter or wife in an act of adultery with a man and kills her or him or both will be treated as committing a misdemeanor punishable by a maximum of 3 years jail time and/or a fine of 3000 rupees" (the equivalent of 42 euros). The law is applied regardless of whether the sexual act was consensual or not.
"The article goes back to 1960 and is derived from the Napoleonic penal code which tolerated passion crimes. It is blatantly contrary to the Constitution of '62, against several human rights agreements ratified by Kuwait and it is not even Sharia compliant because in Islam four witnesses are required to prove there was adultery", says Alanoud Al Sharekh, one of the founders of Abolish 153 and the first Kuwaiti to be decorated with the French National Order of Merit for her work in the human rights field.
"Honor killings are a worldwide phenomenon and are not limited to Kuwait or Islam. They happen when a threat to the family's reputation is perceived. It can take place in case of adultery but also for something as innocent as a phone call."
This is what happened in 2014 to 24-year-old Kuwaiti Mashael Albasman, who was studying English in the UK and was murdered by her father because he found her using a mobile phone. He stabbed her 13 times for being "disrespectful" and killed her in the name of honor.
"Another particular aspect of domestic violence in Kuwait is that abuses are linked to religiosity: the more pious people are, the more they support the principle of honor killings, even though Article 153 is not compliant with Sharia," clarifies Al Sharekh.

Photo: Members of the Abolish 153 team. Founding member Alanoud Al Sharekh to the right.
The team at Abolish 153 raises awareness via social media and through activities such as art exhibitions, lectures, fundraising events and outreach programs within local communities. In some desperate cases, Abolish 153 has even financially supported victims rejected by their families. "The campaign has more women supporters but more and more men have started to show involvement by following or participating in our events," says Nawar Al Barak, the project manager of Abolish 153.
In July 2016, Abolish 153 conducted a survey, the first of its kind in Kuwait and in the rest of the Gulf, to understand the knowledge of Kuwaitis and their attitude towards domestic violence and honor killings. The result showed that the clear majority of Kuwaitis (86%) never heard of the article on honor killings and 63% does not support it, with a clear correlation between the level of education and the rejection rate.
"Article 153 is the most violent in Kuwait but it is not the only one sanctioning violence or discrimination against women," Al Sharekh says. Article 182 of the penal code, for instance, allows a man to abduct a woman without being punished or going to jail, on the condition that he marries the victim with her guardian's permission. Furthermore, the Nationality law of 1959 resembles other laws in the rest of the Arab world: Kuwaiti women married to foreigners, unlike Kuwaiti men, cannot pass on citizenship to their children or spouses, who are treated like expats and have no legal rights.
Lobbying MPs
Different groups in Kuwait are trying hard to raise awareness around the subject of violence against women, and at the beginning of March a new non-profit umbrella organization called Eithar (Altruism) was launched. It groups several associations, including Abolish 153, lobbying for changes to legislations sanctioning violence and fighting against gender-based violence in the region.
The Abolish 153 members also lobby MPs to amend the article about honor killings. After more than two years of campaigning, they reached a milestone in 2016 when Salah Al Ashour, Head of the Women and Family Affairs Committee at the Assembly, accepted to request a formal inquiry into article 153 and its unconstitutional status during a parliamentary session. "The results are still pending. Most MPs support the campaign and want to amend the article but as honor killings are not a common phenomenon, it does not constitute a priority. Regardless of the number of abuses this law must be revised," Alanoud Al Sharekh insists.
The group has also recently met with Safa Al Hashem, the only woman to win a seat in the parliamentary election of November 2016. She showed great commitment to tackle legislation abiding violence and to create shelters for victims of abuse. The only politician who has expressed publicly to be in favor of article 153 is Salafist Abdulrahman Al Jeeran, ex-member of the assembly, who believes the campaign aims to defend adulterous wives, as was reported by the Kuwaiti newspaper Al Rai.
Creating shelters to protect victims of abuse
In the total absence of hotlines, shelters or even rape kits in hospitals, another main objective of the campaign is to make more resources available for victims and to lobby for the construction of shelters. "Kuwait is the only country in the Gulf that does not have private or public shelters," Al Sharekh remarks.
Moreover, according to a medical study in 2010, "the awareness of the prevalence of domestic violence cases among primary care nurses is poor and shortage of knowledge is a barrier to an effective clinical response by medical professionals. Between 60 and 90 per cent of patients are inadequately managed."
In other cases, as described by a 2015 report on Kuwait by the US State Department, "hospitals denied treatment for victims of sexual assault who had not reported the case to the police first". According to the same document, police officers rarely arrest perpetrators of domestic violence even if presented with evidence of abuse: "Individuals also reportedly bribed police officials to ignore assault charges and husbands convicted of spousal abuse in previous years rarely faced severe penalties."
Lack of data
Although Kuwaiti women are considered the most emancipated in the Gulf, according to the last Human Right Watch report, "they continue to face discrimination in many aspects of their lives, and large legal gaps remain in protection of them. Kuwait has no law prohibiting marital rape, sexual harassment or domestic violence." A recent study from Kuwait University, published last February, reveals that 40.2 per cent of 1,071 women interviewed have been victims of physical violence carried out by their spouses. Unfortunately, there is no other scientific data available because victims and their relatives – in particular outside of the capital – fear to report abuses, or to seek legal protection or medical treatment. People choose silence over social humiliation and prefer to deal with their problems privately.
The last official data goes back to 2010, to a study by the Ministry of Justice that states 366 cases of violence against women reported in Kuwait every year. "The actual number could be higher," says Athraa Al Rifai, the President of the Complaints Committee at the Kuwaiti Society for Human Rights (KSHR), during an interview. In fact, as a member of the Human Rights Society, the attorney receives between three to five calls a day from women who have been physically abused and are kicked out of or locked up in their house. "When a victim does file a complaint with the police, the judge in court prioritizes reconciliation over redress," adds Al Rifai.

Photo: Athraa Al Rifai in her office
Empathy for the victims
Public health research has found that immediate support and kindness following a violent incident is the most effective way to speed up recovery from a trauma. "We can choose not to be silent, we can stop shaming victims. We can hold their hands and tell them it is going to be ok and that it was not their fault. Showing empathy and kindness as soon as possible following an incident is the most effective way to promote healing." This is what Mary-Justine Todd, founder and director of the first rape and domestic violence crisis center in the entire Gulf region, suggested during a gender-based violence training and youth drama workshop that she held in Kuwait at the beginning of February 2017. According to Todd, in Kuwait, like in many other places of the world, women suffer in silence because it is humiliating, private and sad – "and it is very easy to still love the man who is hurting us, he is probably not a monster 24/7. In fact, sometimes, he is probably still very nice to us. It's a cycle, a well-established cycle of abuse."
In order to diminish overall cases of violence, the authorities need to work towards the implementation of a national response crisis program that would deploy trained crisis advocates to hospitals, police stations and who could take phone calls from victims.